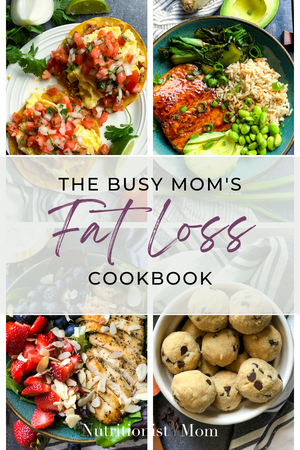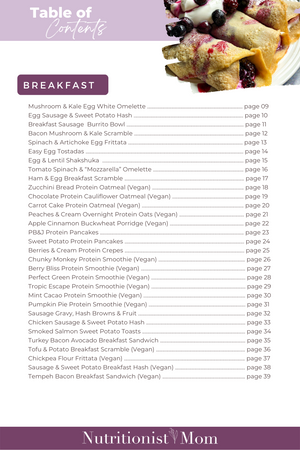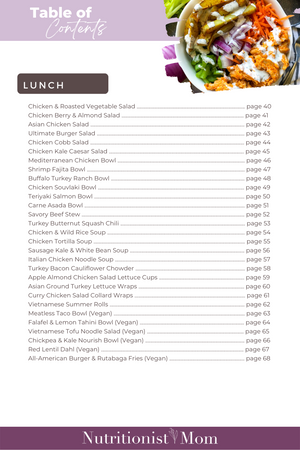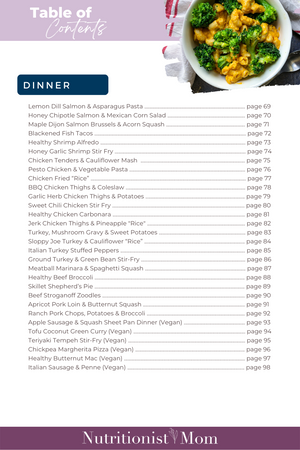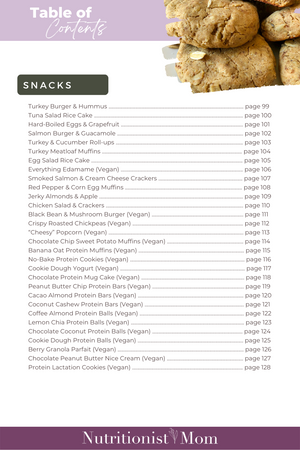 Cookbooks
The Busy Mom's Fat Loss Cookbook (PDF)
Frustrated with fat loss? Burned out with meal planning? Too exhausted to cook complicated recipes?
The Busy Mom's Fat Loss Cookbook makes meal planning EASY and helps balance your hormones so your body can burn stubborn fat.
Whether you just had a baby or never lost the baby weight, this cookbook gets you lasting results by applying extensive research on female hormones, 10 years experience coaching women, and 4 years of formal nutrition education into ONE awesome fat loss guide for busy moms.
This is so much more than a cookbook! My simplified fat loss guide completely personalizes your plan so you can TRANSFORM and THRIVE.
What's inside:
> A total of 120 recipes including breakfast, lunch, dinner, and snacks (macros and calories listed for each recipe).
> All 10 ingredients or less and 30 minutes or less to make.
> Gluten-free and dairy-free + over 45 vegan recipes + vegan subs for most!
> Recipes designed to optimize fat loss by nourishing your body, replenishing deficiencies, keeping you full, supporting healthy hormone levels, reducing inflammation, and balancing blood sugar
> Recipes you'll actually make and your family will actually eat. Every recipe has been tested on my own family!
> My simple fat loss formula that completely personalizes your recipe plan - NO tracking, NO counting, and NO scaling recipes to fit your needs. Simply choose the meals and snacks you want to eat. Breastfeeding plans included!
> BONUS tips on meal prepping, how to break through a plateau, incorporate intuitive eating, enjoy meals out, and maintain happily after reaching your fat loss goals!